Kirkland Semi Private Training
Semi Private Training Enrolling Now!
Embody Health's Semi Private Training program combines the individualized attention of one-on-one training with a fun, motivating, and supportive atmosphere of a small group setting! You'll look better, feel better, move better and have fun while you're at it!
Nobody is left behind or unattended. Everyone is motivated by the morale of working toward like-minded fitness and weight loss goals!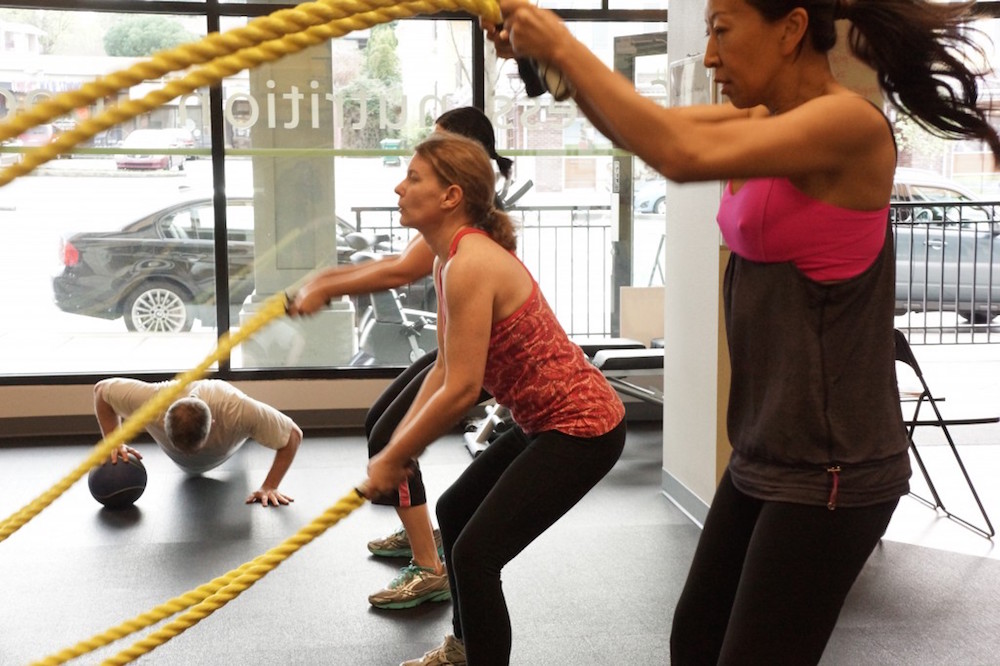 SEMI PRIVATE TRAINING IN KIRKLAND WILL HAVE YOU SEEING QUICK RESULTS!
Our 30 minute semi-private training programs are designed much like a one-on-one training program but with the added benefit of a supportive and energetic group.
With a very small group size of just 6 people, semi-private training is perfect for those you want extra personal attention and motivation like they would expect from private one-on-one training. Our semi-private programs are guaranteed to produce faster, greater results when compared to traditional one-on-one training and at a fraction of the cost!
GET THE TOOLS AND NUTRITION ADVICE TO HELP YOU SEE RESULTS!
Exercise alone will not lead you to great health; in fact, proper nutrition is 80% of an effective fitness and weight loss program. We understand that with our busy lifestyles, eating well can be the hardest part of a weight loss or fitness program. This is why we provide Nutrition support for all of our Semi-Private and Fitness Bootcamp programs at no extra charge.
At Embody Health we believe Nutrition is about more than just fueling your body; it's also about enjoying what you're eating which is why we will never put you on a restrictive diet. Instead, we work with you to create an individualized nutrition plan that encourages you to make proper, healthy choices.
Nutrition guide and recipe books that help you feel satisfied, not deprived
Coaching and support through text, email, or phone to help you stay on track for your plan
Learn the skills you need to maintain lifelong healthy eating that supports your body
DISCOVER WHAT IT MEANS TO BE IN GREAT SHAPE!
Reaching your fitness goals are that much more fulfilling when you have an amazing team cheering you on and pushing you to reach your goals the whole time! Fill out the short form on the side of this page to get started!