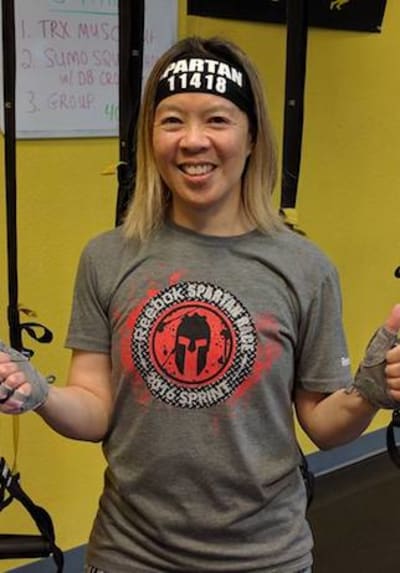 Denise Chan
Hello, I'm Denise, and I'm a certified personal trainer and Enhance Fitness instructor.
When I was younger, I never considered myself to be an athlete. I hated P.E. in school and was never good at any team sports. I didn't like to exercise; I was your classic "couch potato". I knew I should exercise, but I didn't like going to gyms and I always quit after a month or so. Then while I was in my thirties, I discovered I had a passion for bicycling. I never thought I could ride a "century" (a 100-mile ride), but my new friends encouraged me and suddenly I was training to ride one! When I finished my first century, I was thrilled…and I realized I had become an athlete!
I never used to think of myself as a runner either, but then I thought, "Why not? I can do anything I want; with training, I can run a marathon!" And I achieved my goal! I've completed 9 marathons, but I really enjoy running half marathons.
I also like to mix in Pilates, yoga, barre, and Zumba when I can, but I really love boot camp! Boot camp is my absolute favorite way to get both cardio and strength training in one workout! I am hooked on the endorphins that exercise gives me, and I want everybody to experience that "feel good" feeling too!
Also, I've struggled for results in the weight loss department just like many others; I love to eat a lot and eat out with friends. I know that "abs are made in the kitchen"; I know that exercise is just part of the equation for weight loss, along with better, smart nutrition.
So because I'm passionate about fitness and nutrition, I decided to change careers; I became an NCSF certified personal trainer in December 2012. A year ago, a personal trainer friend also encouraged me to get certified in Enhance Fitness, a nation-wide program for seniors to get fit and have fun getting fit in a group setting.
I really enjoy motivating others to achieve things they never thought they could do. Amazing things are possible! If you believe you can do it, you will do it! And I really enjoy helping others to realize that working out can be a lot of fun!
Let's do this!